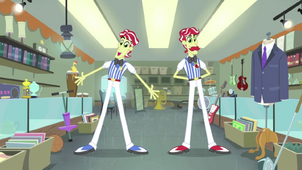 Emporium Introduction

Edit
Thank you, one and all, for your attendance, and we guarantee that your time here will not be spent in vain! In fact, we think it will prove to be the most valuable time you've ever spent! Welcome, one and all, to the shopping experience of a lifetime! A shopping experience for a better life! An experience of a better time! And if we haven't captured your interest just yet, by the time we've finished, an unfortunate phenomenon practically guarantees that we will! A phenomenon? What's that? It's a circumstance perceptible by the senses, but in this case, it's the simple fact that: YOU WANT TO BUY!

You want it, we got it! Need a pogo stick? How about a bowling ball? Want a stuffed clown? Want… whatever this is?
Description
Edit